Welcoming Refugees at Christmas
I have a new decoration on our wall this Christmas. It's a poster from Episcopal Migration Ministries, originally printed by the Southern Diocese of Ohio in 1938. The poster depicts Mary cradling baby Jesus as she rides a donkey, her husband Joseph turning to watch behind them. It's night and there is a sense of urgency and desperation in this image. This is the part of the Christmas story we often forget to read each year. The story of Mary, Joseph, and Jesus as refugees.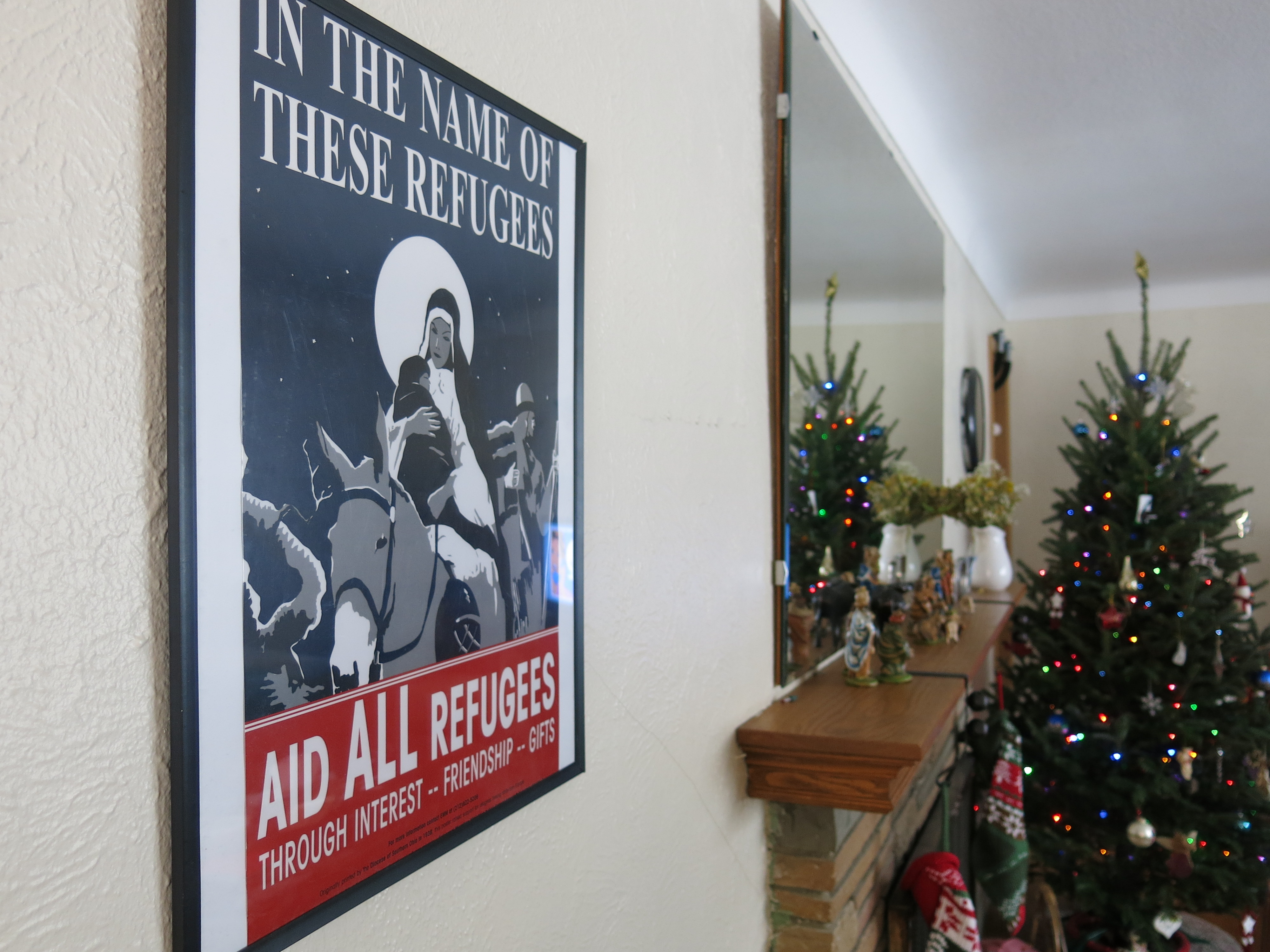 This poster was issued to urge Christians in the Episcopal Church to respond to the Jewish refugee crisis out of Europe. During this time, over 340,000 Jewish people were forced out of Germany and Austria. 100,000 of whom found refuge in other European countries that were later conquered by Germany. Most of these people were killed. Hundreds of thousands sought refuge in other parts of Europe and the United States. Only a fraction were admitted. Americans feared the Jewish refugees who were seeking asylum from the Nazis.
"The sudden flood of emigrants created a major refugee crisis. President Franklin D. Roosevelt convened a conference in Evian, France, in July 1938. Despite the participation of delegates from 32 countries, including the United States, Great Britain, France, Canada, and Australia, only the Dominican Republic agreed to accept additional refugees." (US Holocaust Memorial Museum)
By 1941, emigration was forbidden in Germany and Austria. Most of the Jewish people who remained were killed in places like this: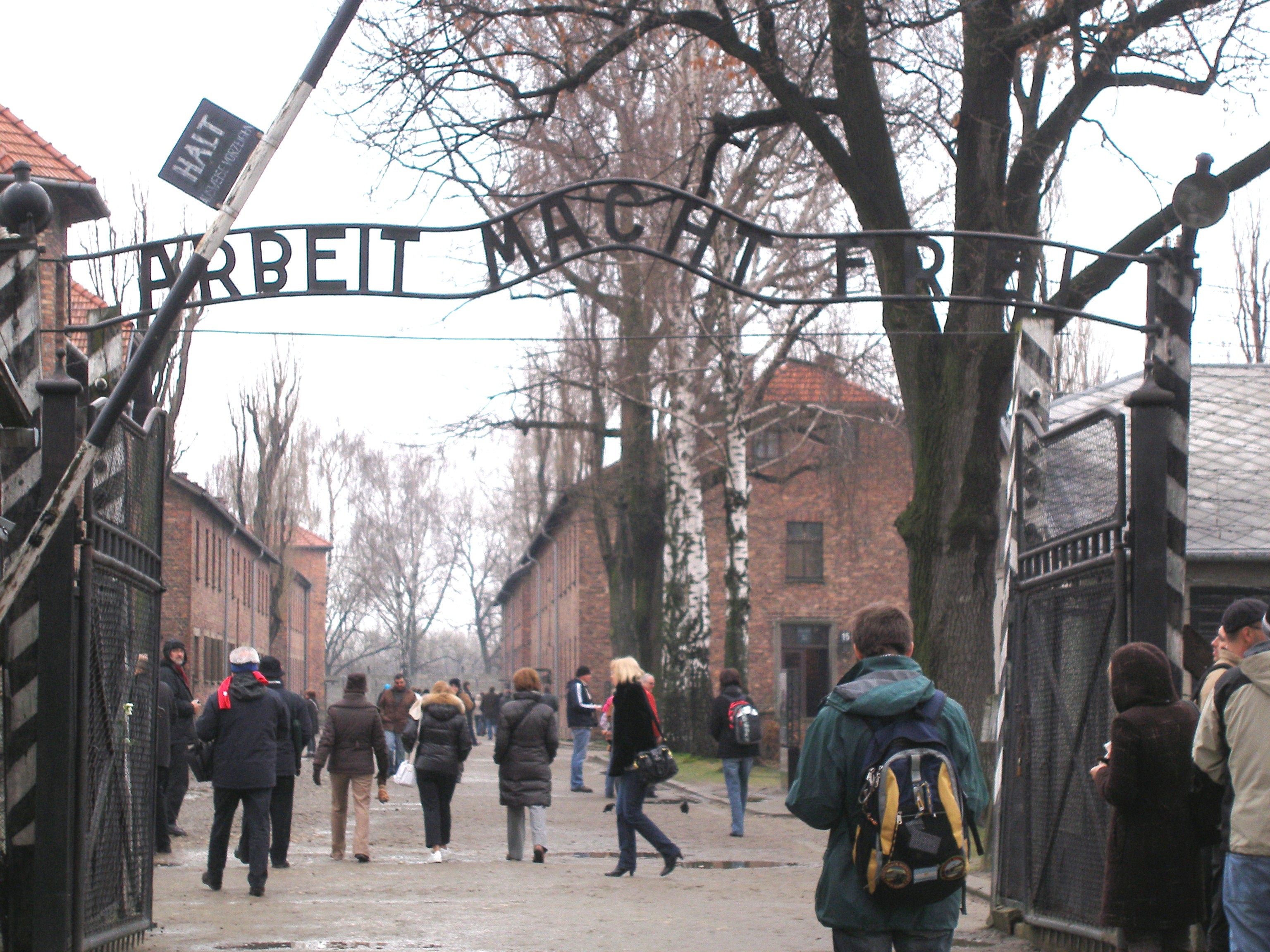 Today, we're facing the largest refugee crisis since World War II. There are 21.3 million refugees around the world today. Less than 1% of refugees are resettled each year. In fiscal year 2016, the US admitted 84,995 refugees.
You've seen the photos of the devastation in Syria. More than 6.5 million people are internally displaced within Syria, and more than 3.2 million have fled as refugees to neighboring countries.
The crisis is real. Innocent people are being slaughtered. This sign I saw at the Auschwitz museum makes my stomach turn: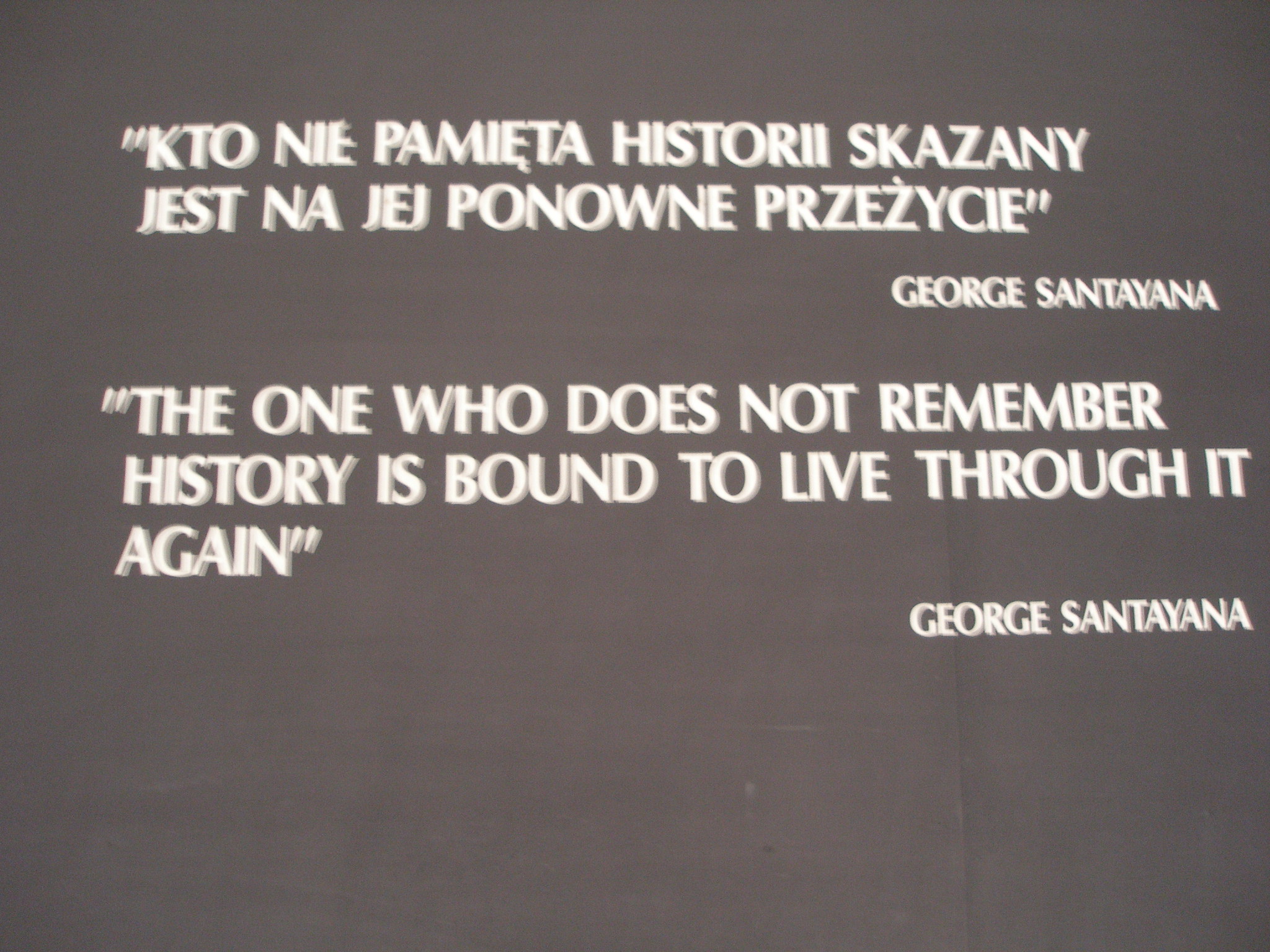 The Christian Response
Yet again, many in America are afraid to welcome refugees. I was reminded of this last night when Christianity Today hosted a Twitter conversation with the hashtag: #JesusInAleppo. I suggested that one thing Christians could do in the short term is urge the US Government to continue accepting Syrian refugees in 2017. Here was a response I received: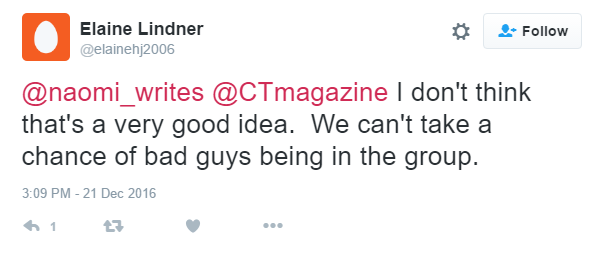 My response: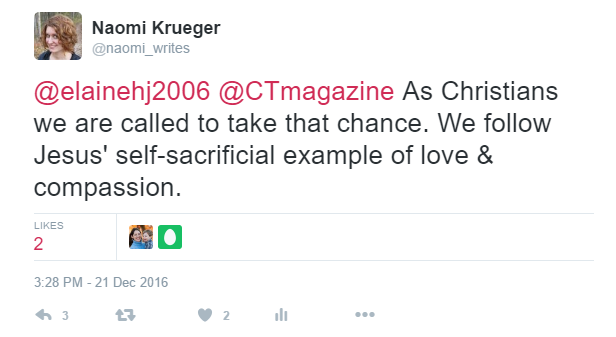 And then I received this:

Regardless of the fact that refugees are already heavily screened, despite the fact that it would be extremely difficult for a terrorist to enter the US as a refugee, never mind that refugees are fleeing terrorism and almost certain death—there are still people who find reasons NOT to welcome them. This is troubling, especially when it is Christians turning their backs.
A Higher Standard
I hold Christians to a higher standard than the average American, who may prefer isolationism and personal security over compassion for those in need. But it should be different for Christians. In fact, historically Christians have been the first to respond to the needs of refugees. The US Refugee Resettlement Program was initiated by churches before it became a government program. Today, over half of the national voluntary resettlement agencies are Christian. Local refugee resettlement agencies in individual states are supported largely by church volunteers and donors to help connect newly arrived refugees to services and acclimate to life in their new home.
And yet… and yet I keep reading comments and articles by some Christians who are afraid to extend this welcome. They feel strongly that our national and personal security is of greater importance than granting refuge to the masses of people who are weary, traumatized, and fearful.
It is troubling and mind-boggling, because the Bible constantly urges people to welcome the stranger, to provide for the widow and orphan, to feed the hungry, comfort the lonely, and share God's love with people the rest of society rejects.
From the Old Testament to the New Testament, the message is the same: God cares for the powerless and vulnerable and wants us to do the same.
I don't know of any story or teaching in the Bible that suggests that Christians should save their own lives at the cost of others. I don't see anywhere that says being a Christian is easy or that the way of Jesus is safe.
I read Matthew 10 last night, after the above fellow on Twitter asked me about being "wise as serpents." The verse he referred to is in the context of Jesus sending his followers out into the world to spread the gospel. This is what Jesus said:
 As you go, proclaim this message: 'The kingdom of heaven has come near.'  Heal the sick, raise the dead, cleanse those who have leprosy, drive out demons. Freely you have received; freely give. (Matthew 10:7-8)
And then:
"I am sending you out like sheep among wolves. Therefore be as shrewd as snakes and as innocent as doves. Be on your guard; you will be handed over to the local councils and be flogged in the synagogues. On my account you will be brought before governors and kings as witnesses to them and to the Gentiles. But when they arrest you, do not worry about what to say or how to say it. At that time you will be given what to say, for it will not be you speaking, but the Spirit of your Father speaking through you. (Matthew 10:16-20)
And later in the same passage:
Do not be afraid of those who kill the body but cannot kill the soul. Rather, be afraid of the One who can destroy both soul and body in hell.  Are not two sparrows sold for a penny? Yet not one of them will fall to the ground outside your Father's care. And even the very hairs of your head are all numbered. So don't be afraid; you are worth more than many sparrows. (Matthew 10:28-31)
And then:
"Anyone who loves their father or mother more than me is not worthy of me; anyone who loves their son or daughter more than me is not worthy of me. Whoever does not take up their cross and follow me is not worthy of me. Whoever finds their life will lose it, and whoever loses their life for my sake will find it. (Matthew 10:37-39)
There are so many other Bible stories and passages I could quote, but that would get overwhelming very fast. Somehow, too many of us have forgotten how risky it is to be a Christian. We have forgotten (or purposely ignored) Jesus' call to sacrifice ourselves for the sake of others. As my husband quipped last night, "Even Jesus had a 'bad guy' in his group. He knew it. And he still welcomed him in." It's true. Jesus knew Judas would betray him, and yet he still shared the last supper with him. He did not flee when Judas turned him over to the people who would kill him.
I'm no saint. I live a comfortable life, and make choices every day for my own self-preservation. It's only natural to want to live peacefully, without fear. We want our family and loved ones to live long, healthy lives. We don't want war and terrorism in our backyards. And neither do refugees. That is why they have fled their homelands to seek a new life in a foreign place, where they are certain to experience rejection and discomfort. But they will be alive. Their children can grow up peacefully.
So that's why I have a picture of the refugee Holy Family on my wall this Christmas. To remind myself that the person I celebrate this season, was also a refugee. When King Herod heard that a king had been born in his kingdom, he became jealous and fearful that this baby would usurp his throne. So he ordered every child under the age of 2 to be killed. After being warned by an angel in a dream, Mary and Joseph fled their homeland to seek refuge in Egypt. They lived there until the danger had passed. (see Matthew 2) So Jesus was able to grow up to fulfill his call to show us how to love one another self-sacrificially. He lived this message to its literal, risky end—death on a cross.
So this Christmas, I hope you will join me and other Christians around the world in finding ways to welcome refugees.
Here is a short reflection from Rich Stearns, president of World Vision.

Learn more:
"Refugees: Facts." United State Holocaust Memorial Museum
"German Jewish refugees, 1933–1939" United States Holocaust Memorial Museum
"Just 10 states resettled more than half of recent refugees to U.S." Pew Research Center
"Can Terrorists Really Infiltrate the Syrian Refugee Program?" The Atlantic
"Infographic: The Screening Process for Refugee Entry into the United States" The White House
"Rejecting Refugees, Rejecting Christ" Sojourners
"Responding to the Global Refugee Crisis" naomikrueger.com
"Pray for Aleppo? Survey Says Fewer Christians Pray for Refugees" Christianity Today