Responding to the Global Refugee Crisis
The world is facing the worst refugee crisis since World War II. In 2014, it was estimated that there were almost 60 million refugees and internally displaced people (IDPs) around the globe. That's one in every 122 people worldwide. (Source: The Atlantic) That number is climbing every day, particularly due to the unrest in the Middle East.
We are witnessing a paradigm change, an unchecked slide into an era in which the scale of global forced displacement as well as the response required is now clearly dwarfing anything seen before.

—António Guterres, UN High Commissioner for Refugees
Right now, many newly displaced refugees are concentrated in the Middle East, particularly in Iraq and Syria due to ISIS's terror and the Syrian civil war. The images of bodies washing up on the shores of Europe, boats sinking with the weight of too many people seeking safety across the Mediterranean, and a train full of refugees trying to cross Hungary for asylum in Germany are shocking and disturbing.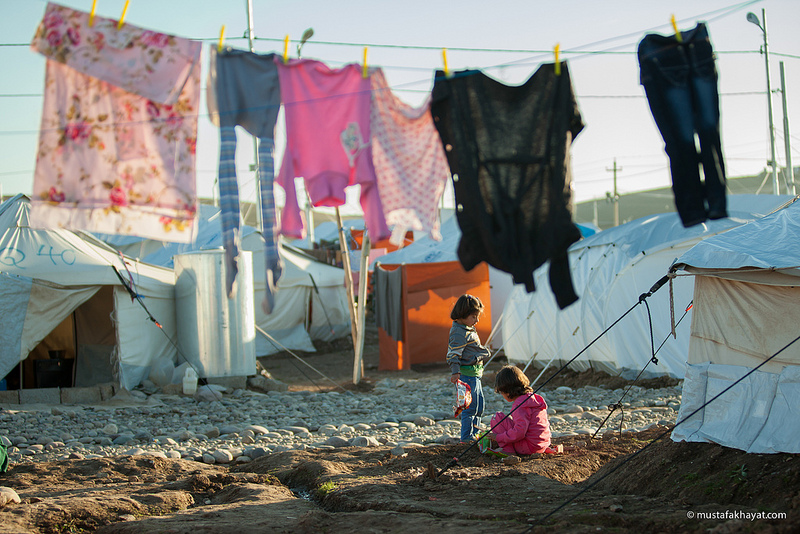 Nine million Syrians have fled their homes since the outbreak of civil war 2011—3 million into neighboring countries and 150,000 seeking asylum in Europe. This is a crisis of enormous magnitude. Globally, 13.9 million individuals were newly displaced due to conflict or persecution in 2014. This includes 11 million people newly displaced within the borders of their own country. (Source: UNHCR)
According to the UN High Commission on Refugees, a refugee is someone who:
owing to a well-founded fear of being persecuted for reasons of race, religion, nationality, membership of a particular social group or political opinion, is outside the country of his nationality, and is unable to, or owing to such fear, is unwilling to avail himself of the protection of that country.
International Response
Individual citizens are urging their nations' governments to accept more refugees for resettlement. When the government of Iceland agreed to take just fifty Syrian refugees, 10,000 Icelanders responded by offering to house more refugees in their own homes. Germany has offered to take 800,000 Syrian refugees. The United States resettled only 2,000 Syrians in 2015.
Politicians in Washington are lobbying for the US to accept more refugees, even though the US already leads the world in resettling refugees, taking half of those who are resettled worldwide. That's more than all other resettlement countries combined. (Source: US Department of State)
But of course given the current refugee crisis, resettling just under 70,000 refugees in 2014 seems like a drop in the bucket. (Check out this breakdown of refugee arrivals in the US by state and country of origin from the Office of Refugee Resettlement.)
Of the 14+ million refugees (not counting IDPs), less than 1% are resettled every year. This is partly due to the high numbers seeking resettlement, partly because of the rigorous health and Homeland Security screening process involved, and partly because only a few nations worldwide open their doors to a large number of refugees.
Minnesota has resettled over 95,000 refugees in the last 30 years. Here's a list of the major refugee groups resettling in the Twin Cities:
Bhutanese
people from the Former Soviet Union
Hmong from Laos
Iraqis
Karen from Burma (Myanmar)
Liberians
Somalis
These groups have made Minnesota a cultural crossroads, and even though the circumstances that led them here were horrific I am thankful to live in a place with this history of welcome and hospitality to those seeking refuge.
 You too can contact your representatives and senators to implore them to increase the refugee arrival numbers from Syria and other regions.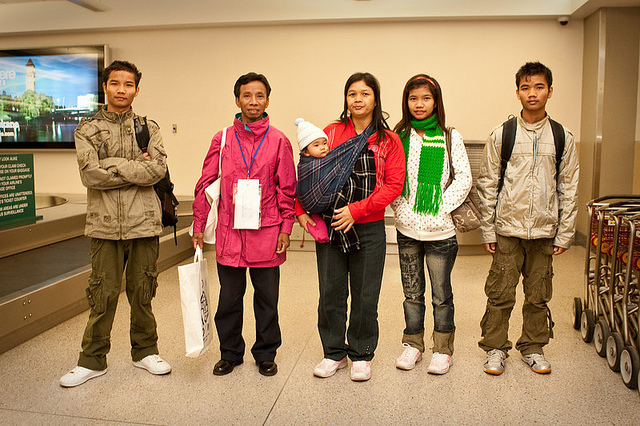 Ordinary Individuals' Response
The global refugee crisis may seem like a problem for the world's governments to solve, and in many ways it is. However, without the support of ordinary citizens it would not be possible to resettle any refugees at all. The US refugee resettlement program began as a citizen led effort after World War II and it continues to rely heavily on the involvement of ordinary people like you and me.
Immediately after college I served in AmeriCorps VISTA at a refugee resettlement agency in Minnesota (MCC Refugee Services). I saw first hand the need for volunteers and donors to keep local agencies running. I went to the airport with volunteers to greet newly arrived refugees and drive them to their new, fully furnished homes. Their rented apartments and houses were furnished largely thanks to the household goods donated by ordinary people. Volunteers helped to bring families to medical appointments and meetings with social service agencies. Volunteers showed refugees how to ride the city bus and become self sufficient in navigating this unfamiliar city. Volunteers helped enroll kids in school and practiced English with their parents. Volunteers helped conduct mock interviews for people seeking employment.
Every year, each local refugee resettlement agency reports to their national VOLAG (Volunteer Agency aka national refugee resettlement agency) how many individuals they have the capacity to resettle. There is funding that comes from the federal government for each refugee resettled, but there are many other costs that must be recouped by state funding, grants, and individual donations. The numbers move up the chain to the national Office of Refugee Resettlement (ORR) which petitions the US government for a certain number of refugee arrivals. The president then signs off on how many will be accepted in the upcoming year. My explanation of how the resettlement process works is missing a lot of details. Go to the Arrive Ministries (another Minnesota refugee resettlement agency) site for a great introduction to the resettlement process.
All this to say, the individual ordinary person has a huge effect on a nation's capacity to accept more new arrivals. So if you're wondering what you can do to help the refugee crisis, consider donating your time, your money, or your household goods to a local resettlement agency. I recommend Minnesota Council of Churches Refugee Services or Arrive Ministries, because of my personal involvement in these organizations but any resettlement agency would benefit from your support.
The crisis is real. But the solutions are within reach.
There's no bureaucracy in the way and no passport needed. All it takes is an email or a phone call to the agency to see how you can get involved. Together, ordinary people like you and me can extend hospitality to men, women, and children who are fleeing their homelands in pursuit of life.
Note: If you want to learn more, click on the links I've hyperlinked throughout this post. There's a wealth of information out there on the refugee crisis. It's good to know what's going on and to get the information from multiple sources. This report from the UNHCR is particularly helpful, and includes infographics.