What The Giver Teaches Us About Choices
My heart is feeling raw this week. The news from Ukraine, where hundreds of passengers on the Malaysian airliner were shot out of the sky, and the news from Palestine and Israel where hundreds of innocents are being killed and wounded, makes me shudder. CBS News reported on Friday that there are 41 wars going on in the world right now. Forty-one wars.
When will it end? When will humans stop killing on another? Why can't we agree to let world peace reign once and for all? Couldn't we figure out a way for the world to live in harmony?
And then, I remember The Giver. Lois Lowry's haunting novel that I read for the first time in fifth grade. Then again in high school. Again in college. Again as a professional. Again and again I've read this book, each time the meaning seeps deeper into my skin.
This is a book about what a society might look like if the choice to make war was eliminated. If hunger, pain, loneliness, and any imaginable suffering has been extinguished from reality. The current generation has no memory of such a world, neither does the generation before, and back and back and back.
(**Spoiler Warning: read no further if you don't want to hear about the plot of The Giver**)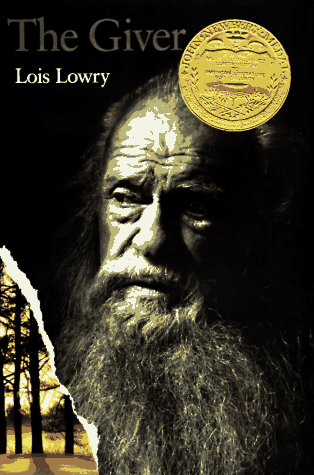 Jonas, the story's twelve-year-old protagonist, is selected by the community elders to become the Receiver of Memory. He receives memories from The Giver, an old man who lives a lonely existence with only the memories of the world to keep him company. Jonas soon discovers that the life he knows, the seemingly idyllic, safe community, is not what it seems. Not only does he discover the horrible reality of the past, about war and suffering, but he learns about secret horrors taking place as standard practices of the community.
The Community somehow managed to engineer a society without choices. Their professions are chosen for them. Their spouses are chosen for them. Their children are chosen for them. Their date and time of death are chosen for them. As a result, people are incapable of making wrong choices.
"…we don't let people make choices of their own." [Jonas said.]

"Not safe?" The Giver suggested.

"Definitely not safe," Jonas said with certainty. "What if they were allowed to choose their own mate? And choose wrong?"

"Or what, if," he went on, almost laughing at the absurdity, "they chose their own jobs?"

"Frightening, isn't it?" The Giver said.

Jonas chuckled. "Very frightening. I can't even imagine it. We really have to protect people from wrong choices."

"It's safer."

"Yes," Jonas agreed. "Much safer."

But when the conversation turned to other things, Jonas was left, still, with a feeling of frustration that he didn't understand. (The Giver, by Lois Lowry. Pages 98-99)
Jonas discovers that with the elimination of choices, there was also an elimination of the ability to experience joy and even compassion. And most disturbing of all, a hollow absence of love.
The freedom to make choices is what makes us human. Sometimes—often–we make horribly wrong choices. We choose to pull the trigger on a missile before confirming whether the plane is military or civilian. We choose to launch rockets when we know they'll land on children and families. We choose to close our eyes to suffering, to turn our heads, to look away and do nothing.
But a lot of the time, miraculously most of the time, humans choose goodness and life and love. Humans choose to follow laws and choose life over death. Most of the time, wars are not destroying our communities. Much of the time, people experience joy and love and safety on a regular basis. These too, are the result of choices.
Choices are what make us human. Remove our freedom to choose and our essence is stripped.
So when I watch the news, when I pray and cry and shudder at the horrible tragedies unfolding, I need to remind myself that this horror is a result of human choices. The alternative to having these choices, is an even grimmer world indeed.
I had the privilege of interviewing Lois Lowry about The Giver, the difference it has made for readers, and the upcoming feature film, for Books Make A Difference. Read it here.