An Extraordinary Ordinary Life
Rain is falling steadily outside. Banana bread is baking sweetly in the oven. Leftover frozen pizza from dinner is still sitting on the counter. I'm feeling content. I had a wonderful afternoon with a good friend, just chatting about life and books and movies. Tim worked on sanding and stripping a desk in the garage all day. I unpacked a few more boxes to put away in our new house. Today was simply ordinary, but truly wonderful too.
Ordinary is good. I used to disagree. Used to think a happy life meant an ambitious life. A successful, high powered career. A never-stop-moving activism campaign. A thrilling social life. I thought I couldn't actually make a difference in the world unless I actually moved mountains. Everything had to be BIG and important and sophisticated.
But my life didn't really turn out that way. And here I am, married for three years, living in an inner-ring suburb in a house we just bought, spending my Saturdays gardening and cleaning and baking. So domestic.
Ha! Me? Domestic? Ordinary? Boring? Is this really what I want?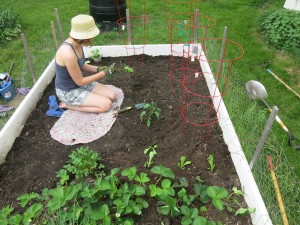 Actually, yes. Ordinary is exactly what I want. I've discovered that ordinary is good. Ordinary is not to be feared, but to be embraced. 
Whoever said Ordinary couldn't make a difference in the world? Ordinary people make a difference all the time in ways that may not seem significant, but add up to a whole lot of impact.
Ordinary is my grandparents. Just an ordinary couple, each growing up in a Minnesota small town, finding each other in college, getting married, raising three kids, retiring to a townhouse and a summer lake cabin. One could say there's nothing particularly remarkable about them. But of course, nobody would. Because it wouldn't be true. They're the type of people everyone wants to adopt—and many do—as part of their own family tree.
My grandparents are the most hospitable people I know. They love hosting family and friends. (And family of family and friends of friends.) There's always one more bed available, always one more place at the table, always one more welcoming embrace. With joyful hospitality, they've again and again shown what it means to love.
Last night, to celebrate their 60th wedding anniversary, my grandparents invited us all over. Children, grandchildren, and great-grandchildren gathered together to congratulate them on sixty years of togetherness.  They cooked us a fabulous dinner, served us homemade dessert, and entertained us with stories from their early years of marriage.
They spoke about sharing part of their honeymoon with two friends—another newlywed couple—in a rustic cabin up north. Their friends got there first and rigged up my grandparents' bed with a cowbell hanging under the springs, connected to a rope that went through the wall so their friends could ring it all night long. Oh, how we all laughed.
They shared about their first apartment in Minneapolis, where they had to duck between low hanging attic beams. They talked about moving out to Oregon for a year—their best year, Grandma said.
And then to their years of little ones underfoot in Wisconsin which lead the way to the "cottage," as Grandpa likes to call it, on Durphee Lake. Who among us, who have experienced a day or an evening at their cabin, has not left feeling like they've enjoyed a piece of heaven? Sure, the lake is beautiful and the cabin is quaint, but really what makes the place so special is Grandma Jo and Grandpa Dick. They've created a sacred space that feels like "home" no matter who you are and how long you've come to stay.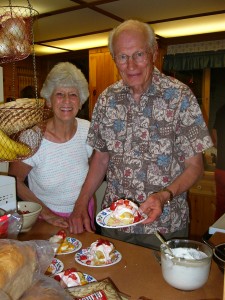 Oh, I know they've had their share of hardship, of heartache, and sorrow. But my grandparents are two of the most content, joyful people I have ever known. And they couldn't be more ordinary. But through their love and generosity over the years, they've surely made an impact on the world, one piece of shortcake, one game of Whist, at a time.
I'm proud to be part of their legacy. Their ordinary, life changing legacy. I can only hope to live up to their extraordinary ordinary, with arms wide open and always another place at the table.