Julia Dinsmore: Poetically Bridging Class Divides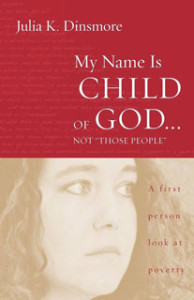 I had the honor of interviewing my friend Julia Dinsmore for a recent article published with Books Make A Difference. Julia is an inspiration to me. She is a mover and shaker, local Minnesota author, poet, and activist. I highly recommend her book. She is also a fantastic speaker for high school and college classes, church events, nonprofit events—really anywhere with people interested in discussing socio-economic inequality from a personal perspective. Julia will shake you up and give you new eyes to see the class divides in our society.
Here's her beautiful poem, read by Danny Glover, in this YouTube video.
And here's how my article begins. Be sure to read the rest over at Books Make A Difference.
Perhaps no individuals in the history of the world have been more misunderstood than those experiencing poverty. The causes of poverty are as complex as they are diverse and simultaneously personal and systemic. A lot of books have been written about people in poverty, but not many written by people in poverty.

Julia Dinsmore, a Minnesota poet, singer, and educator, hopes to transform others' view of people experiencing poverty with her book My Name is Child of God . . . Not "Those People."

When Julia began speaking and teaching about socio-economic inequality, sharing her own story and empowering people to be part of the solution, she was still mired in the challenges poverty brings, and she is still working to overcome them today.

But her survivor spirit is strong and her hope, resilient. This may be why her story has impacted so many.
Read the rest of my article at Books Make A Difference here.
Julia is currently raising money to support her self-employment as an educator and storyteller. If you enjoyed her poem, if you've been blessed by Julia's teaching and storytelling in the past, or if the article I wrote impacted you in any way, please consider donating to her micro-business expansion. More information on her GoFundMe page.