Observations on a Philippines Vacation
Visiting the Philippines was my first trip to Asia, making it the fifth continent I've traveled to in the last ten years. I've walked through extreme poverty, heard personal stories of oppression and occupation, been overwhelmed by the beauty of natural wonders, basked in the glow of sun kissed beaches, and visited countless museums. But even though I've traveled before, and even though I've been in developing countries and seen poverty up close, going to the Philippines was something entirely new.
It was the first trip I've taken independent of a college program or family vacation. Tim and I planned the whole trip ourselves and were on our own for securing lodging, transportation, and activities. We were with friends only the last few days. For the rest we relied on public transportation–like jeepeneys, multicabs, moterelas, pedicabs, buses, taxis, trains, boats, and our own two feet. We spent a lot of time on the road, side by side with Filipinos going about their daily business. It was a good space for quiet reflection and observation.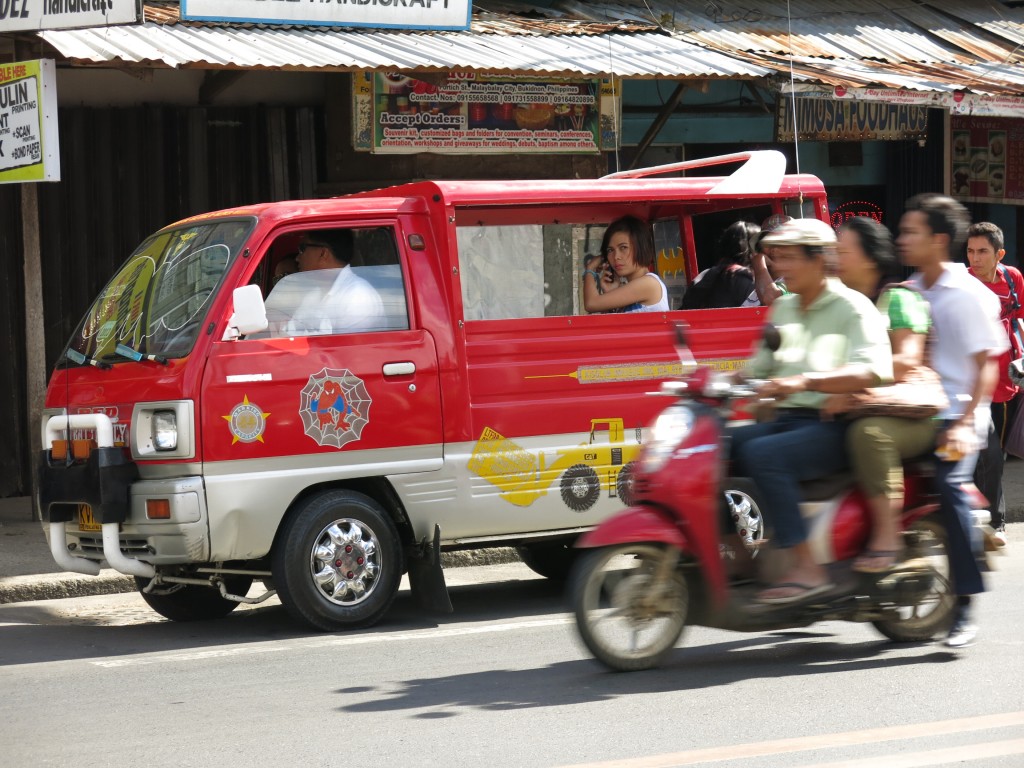 I was impressed by the number of people everywhere we went. Even on remote stretches of a highway that bumped along through the mountainous region of northern Mindanao, there were people selling fruit, chips, water, and cell phone load from shops in front of their homes. Everywhere we went the streets were filled with vehicles, pedestrians, sidewalk vendors, and stray dogs and chickens. Every mode of transportation must have had TARDIS technology. How else could there be more room than it looked like from the outside? The motto seems to be "there's always room for one more!" And somehow, there is! People just squish together more, seemingly without complaint.
To be perfectly honest the togetherness and busyness of it all started to wear on me. I'm used to the deserted plains of Minnesota. The traffic in Manila put to shame any complaints I've EVER had about rush hour here!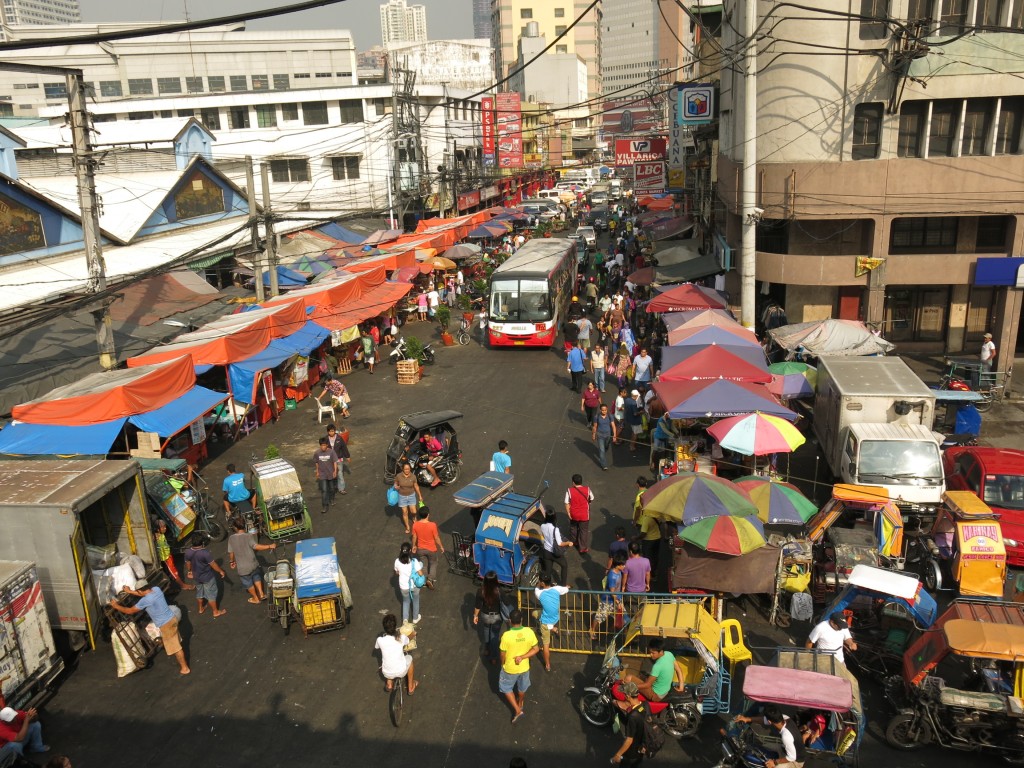 We were only there for two and a half weeks, but by the end I was weary of travel and weary of the constant motion around me. At the same time, I couldn't escape awareness of my personal privilege. It wasn't just that everywhere we went people stared at us, called my 6′ 5″ husband various NBA player names, or called out, "Hey Joe!"—a nickname for Americans that originated in World War II days. It wasn't just that I had enough money in my purse or enough food to eat.
My awareness of privilege was more that any discomfort I might be feeling at a given time was only temporary, whether it was an uncomfortable sleeping arrangement, a toilet without a seat, or sloooow public transportation. What I was experiencing was just that—an experience. It wasn't my everyday life. At the end of the day, I knew I would be going back to my hotel or hostel, I knew soon I'd be leaving for the beaches of Boracay, or the comforts of a friend's personal car, or even my flight home. I was a tourist just passing through.
Tim and I had chosen to spend our vacation in the Philippines. Mostly because it's where Tim grew up and he wanted me to experience it. But also because we knew it would be fun. We both like trying new things and learning about history and culture. We know some expats in the Philippines who've chosen to make their life there. But even they have tremendous privilege and a separation from the life of the average Filipino. The gated communities we stayed in with friends were far removed from the Filipino neighborhood we stayed in with a couch surfing host.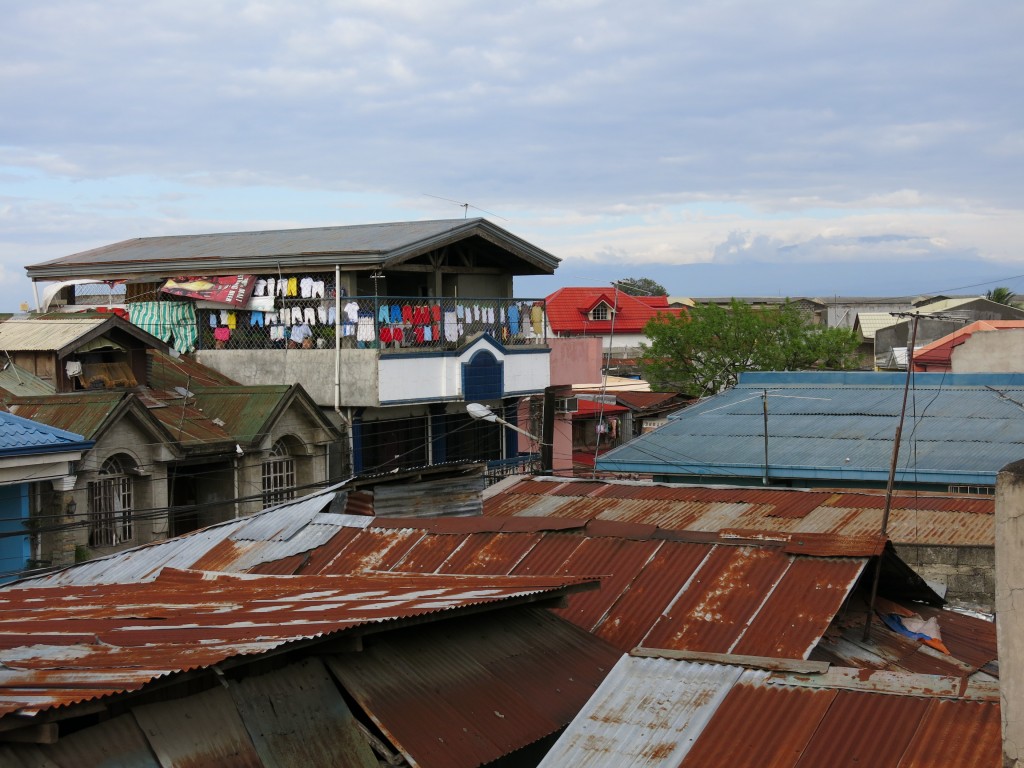 I used to feel guilty about my privilege. I don't feel that anymore. I don't even really feel shame. It's more of a gnawing sensation, deep in my gut. It's an awareness that my life is so incredibly different from most people around the world, and in ways that make my life easy and more comfortable. And at the same time, I know that what I think is easier and more comfortable may not be for others. The culture shock—or cultural adjustment—that I experience in the Philippines may also be felt by a Filipino visiting me in the frozen tundra of Minnesota. I think sometimes we assume our way of life is better, more desirable, by default. That may not be the case.
The biggest lesson I've learned through my travels, whether it was South Africa, Lithuania, Brazil, or the Philippines–people tend to have more in common than differences. How we live out our values may be vastly different, but we share the same values of family, faith, and friendship. Everywhere I go I meet people with deep kindness in their hearts. For example, Tim and I were walking up to a monastery for church on Sunday and a Filipino family stopped and rolled down their window, wondering if we'd like a ride. We took them up on it, and sat with them during Mass. They even found a ride for us back to the highway from a relative. Our shuttle driver from the airport to our hotel in Cagayan graciously took us to an alternate hotel when the one we had a reservation at turned out to be closed!
We met a man in a small, country store who told us he wanted to be our friend. At first we thought he was a taxi driver trying to "bring" us somewhere. Finally, we realized he wanted to "friend us" not "bring us!" He knew Wycliffe missionaries in the 60s (the organization Tim's family is with) and because of these relationships he wanted to be friends with us, too. Here's a picture of him talking with Tim: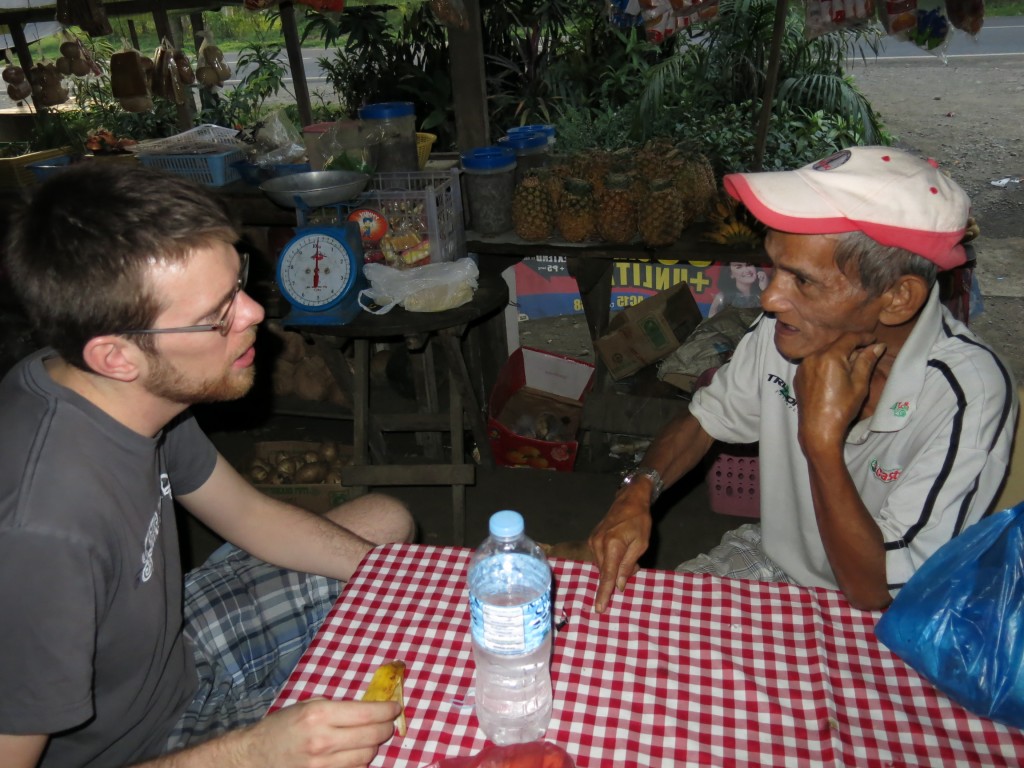 The biggest privilege of all was that this was a vacation. A paid vacation. And yes, we were doing things "on a budget" and yes, we tried to immerse ourselves in local life, and yes we learned things about the world and about ourselves along the way. But we also spent five days in the premier island vacation destination in the Philippines, along with other tourists from around the country, and from Korea, China, Europe, and elsewhere. We ate ice cream almost every day and tried both local cuisine and more familiar favorites, like pizza and hamburgers. It was truly a marvelous vacation. People have asked me if we were going there for a mission trip or Typhoon Haiyan relief, or even our honeymoon, but the honest answer is, no we just went for fun.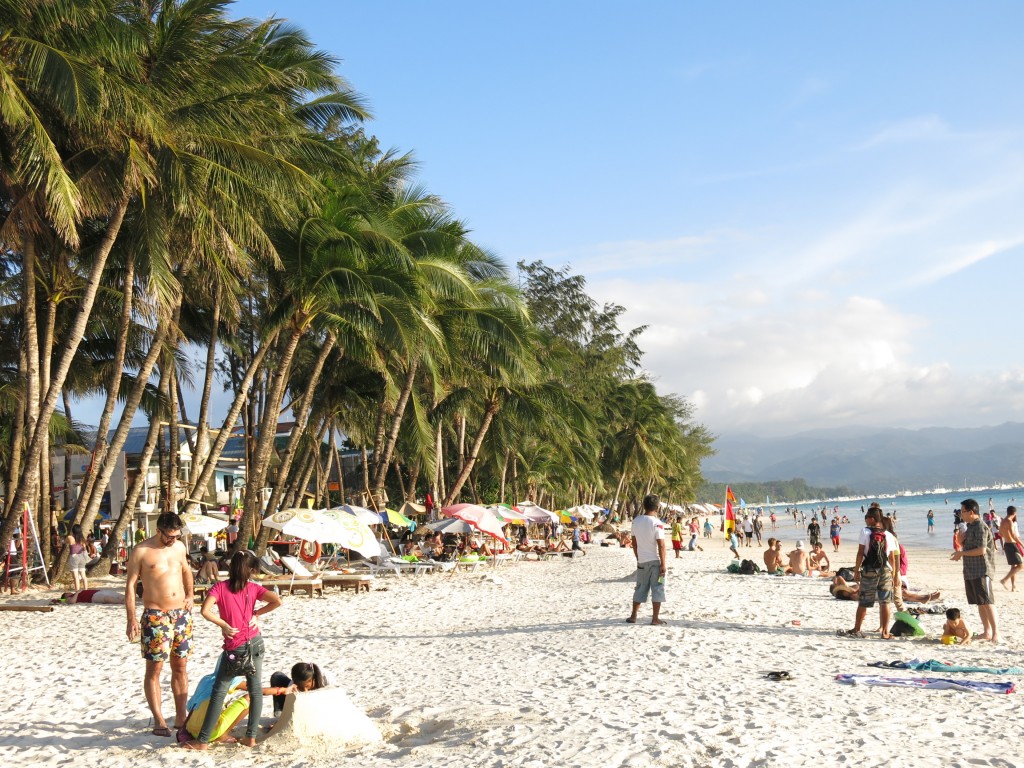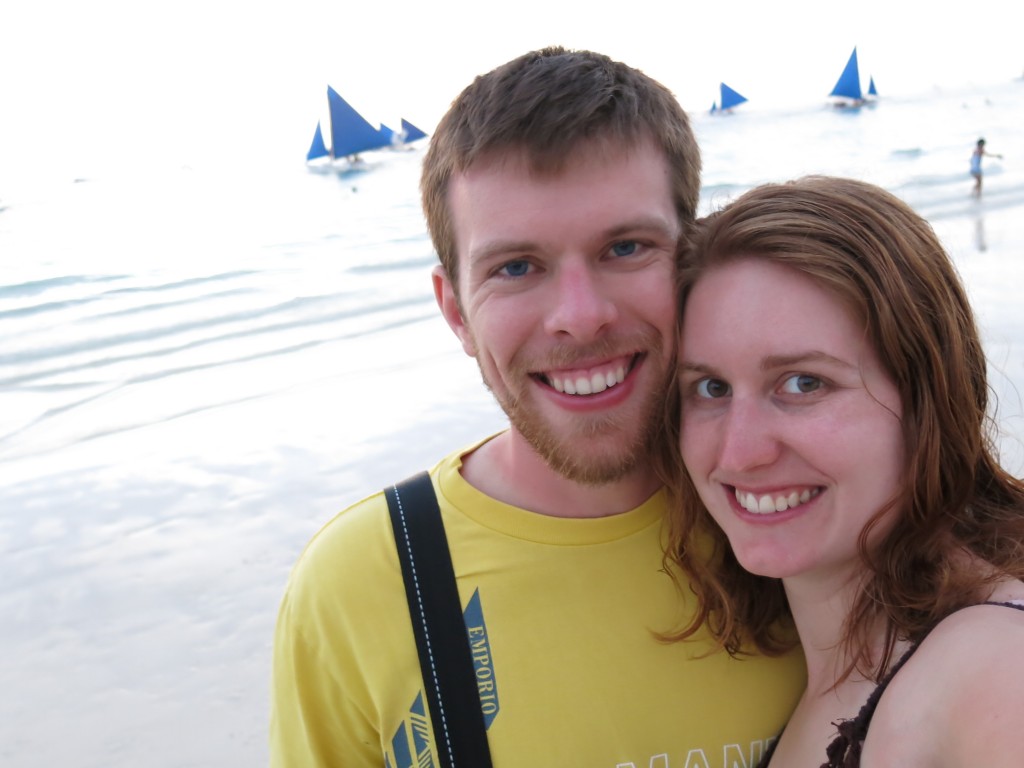 What a joy and a blessing to be able to have this adventure with the one I love. I am so thankful. So, so thankful. I wonder where we'll go next…