Human Trafficking Awareness Month
January is Human Trafficking Awareness Month. If you're just starting to learn about this global injustice, now is a great time to dig deeper and learn more about what is going on. Education and awareness is the first step in bringing an end to oppression of any kind.
This afternoon New York Times columnist Nicholas Kristof hosted a panel discussion via Google+ with sex trafficking abolitionists. The event was called: "What does 2014 hold for the fight against modern-day slavery?"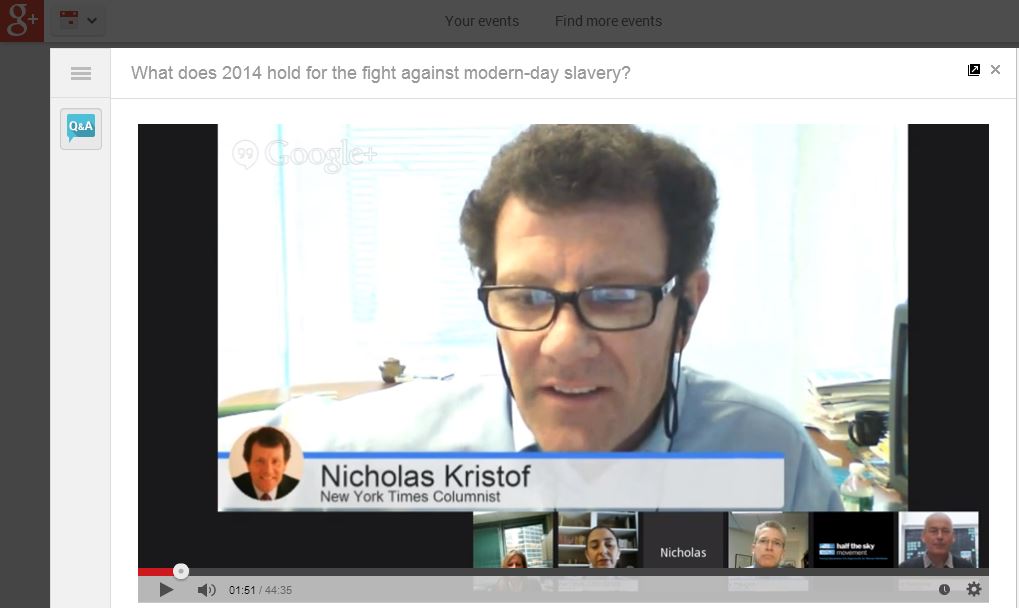 The participants were Gary Haugen, CEO and president of International Justice Mission; Rachel Lloyd, CEO of GEMS, sex-trafficking survivor, and author of Girls Like Us; Susan Bissel, chief of child protection at UNICEF; and David Batstone, CEO of Not for Sale and author of a book by the same name.
If you missed the live-stream discussion, you're in luck! There's a recording still available on Google+. It's a really excellent conversation with information accessible for ordinary people who want to learn about human trafficking. The discussion ends with practical ways ordinary people can participate in the abolition movement.
Here are some books to check-out about human trafficking:
Not for Sale: The Return of the Global Slave Trade–And How We Can Fight It, by David Batstone
Girls Like Us: Fighting for a World Where Girls are Not for Sale: A Memoir, by Rachel Lloyd
Half the Sky: Turning Oppression into Opportunity for Women Worldwide, by Nicholas Kristof and Sheryl WuDunn
I've read Half the Sky, but not the other two. I think I'll try to get them from the library next time I go.  What about you?
Here's a news report about sex trafficking in Minnesota and the recent sentence handed down to a local sex trafficker–the longest sentence in Minnesota history: Watch video here.

What books, websites, or other resources have you found useful in educating yourself or others about human trafficking?
For related posts on human trafficking, click here.