Changing the Life of a Bushman in Botswana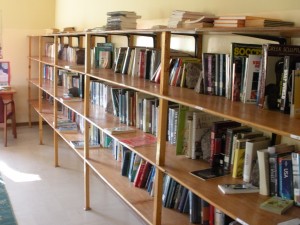 My favorite article I wrote in 2013 was published today at Books Make a Difference. It's the story of how a library in a remote village in Botswana changed the life of a young member of the San tribe (Bushman). I interviewed the Peace Corps volunteer who started the library. He partnered with the African Library Project to fill the shelves of a vacant library building.
I also interviewed the young San man, now a high school graduate taking A-level courses to prepare for college, over email. We had initially set up a Skype call for early one morning, but he had to cancel due to his exam schedule. So, instead it was an email interview. Not my ideal form of interviewing, but since I had so much already from Ed (the Peace Corps volunteer) it turned out okay. The article was so much fun to write, because the story itself was so compelling.
So without further ado, here's the an excerpt and a link to read the rest of the article at Books Make a Difference.
By the fall of 2015, a young man from the San (Bushman) tribe of Botswana, the first of his people to graduate from high school at the top of his class, will be ready to pursue an undergraduate degree in engineering at any university in the world. His tuition will be covered by a national award, granted by the Botswana Ministry of Education for excellence in academics. Ketelelo Moapare is the first San to win this prestigious award and it is all because a library came to his village when he was thirteen years old.

Ketelelo was orphaned shortly after his birth among the San people on the Central Kalahari Game Reserve, where the San tribes hunted and gathered for more than 20,000 years in the Kalahari Desert. In the late 1990s, the government of Botswana began to forcibly remove the San people to assimilate them with the rest of the Botswana culture. Ketelelo, now under the care of his grandparents, was transplanted to New Xade, a settlement near the town of Ghanzi.