Change the World: Send Jennifer to School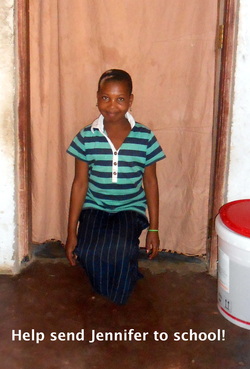 In a city in Tanzania, in a home without electricity or running water, lives a girl who works as a maid and babysitter in exchange for shelter and food. Her mother sent her eight hours away from home for this opportunity—she is too poor and too sick to provide for her daughter. This beautiful girl named Jennifer is just twelve years old. Instead of playing with friends, going to school, or preparing for the future Jennifer works for another family struggling to make ends meet. Her employer, a nanny at a local orphanage, struggles to afford food and school fees for her own son. Jennifer's biggest dream is to go to school, but the money simply isn't there. 
Without an education, her options are limited. The generational poverty that landed her in this situation will follow her the rest of her life. Unless, of course, something changes to make school possible.
All around the world, girls like Jennifer lack the opportunity or financial means to attend school. In the book Half the Sky: Turning Oppression into Opportunity for Women Worldwide, Nicholas Kristof and Sheryl WuDunn tell the heartbreaking stories of girls who suffer due to gender discrimination and inequality. Sex trafficking, slave labor, female genital cutting, and maternal mortality are a few of the horrific results of the gender gap and economic inequality. The book also details solutions to the problem—education being the most effective.
Girls in poor countries are particularly undernourished, physically and intellectually. If we educate and feed those girls and give them employment opportunities, then the world as a whole will gain a new infusion of human intelligence—and poor countries will garner citizens and leaders who are better equipped to address those countries' challenges. (Half the Sky, p. 240)
My friend Kelly, an American volunteer at the orphanage where Jennifer's employer works, is raising money to send Jennifer to school. She has to go to a boarding school because of her current poor living conditions. It costs just $80 USD each month to send Jennifer to one of the top 20 boarding schools in Tanzania. If eight people give up one meal out each month and instead invest in Jennifer's schooling, mountains will be moved in Jennifer's life.
This opportunity will change her life. She will go on to be more than a house girl. Maybe a teacher, or a doctor, or a businesswoman. She will be the first of her family to go to English Medium school, and when she gets there, the first to go to Secondary school," Kelly writes.
Change one girl's life by sending her to school and you'll change her whole family. Maybe her whole community. Maybe the world.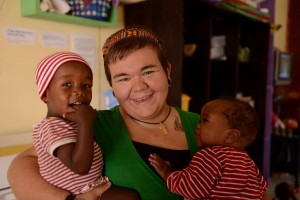 You can trust that the money you donate through my friend Kelly will go directly to Jennifer's school fees.  Kelly is a woman of integrity with a big heart filled with hope for Jennifer's future. Any amount you can give makes a big difference.
Read Kelly's blog about her work in Tanzania here.
Want to change the world? Invest in education for girls around the world. Invest specifically in Jennifer. Donate now by visiting this website.
If you're inspired to learn more about the oppression of women worldwide and ways for ordinary change-makers like you and me to be part of the solution, read the book Half the Sky or watch the film. Here's a video summary of the Half the Sky Movement.