Music: A Chiropractor for the Soul
I've been lacking inspiration lately. I feel a bit stifled by the ordinary hum drum of life. I've been blaming it on a lot of things, too. Mostly my bad habit of gluing myself to a screen for most of the evening, but also the laundry and the dishes and the cooking and the errands and that pesky thing in the middle of waking up and dinnertime called work. Fall is coming sharply to a close here in Minnesota. The end of Daylight Saving Time has abruptly turned off the light in the evenings, so frolicking around local lakes and parks isn't nearly as enticing. And snow is quietly drifting from the night sky, turning our autumn landscape into a snow globe.
Oh, and I don't have a piano.
I miss having a piano available. Playing the piano is cathartic. It brings joy and fills my heart with contentment. Playing familiar songs by Mozart, Beethoven and Chopin or popular Irish melodies or jazz pieces is good for my soul.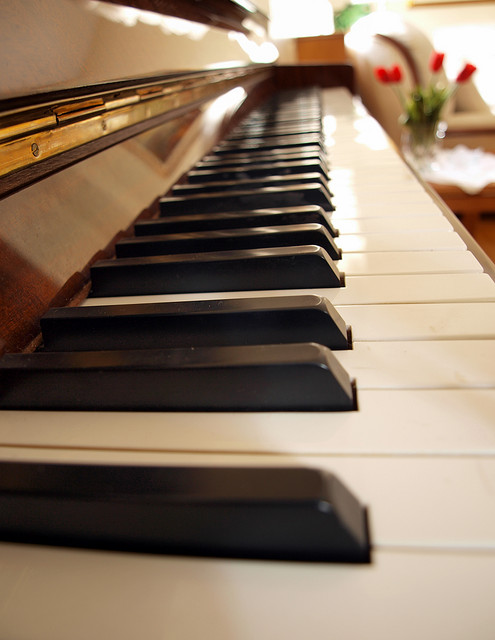 I'm no virtuoso. I can't play by ear and don't keep time very well, but I enjoy it. Someday when my husband and I have a house, we'll find a piano. Until then, I'll feel lonely for that comforting creative outlet.
Tonight though, I realized I had a bit of agency. My grandma called to apologize for forgetting to give us a bag of apples last time we visited. They had oodles of them in the garage. Tonight Grandpa made baked apples for dinner and it made Grandma think about forgetting to give me some.
Her phone call made me remember something Grandma DID give me last time I visited. She gave me back my flute. She's been borrowing it for a few months. Grandma loves to play flute, but gave hers to my aunt who lives in Brazil. Since my joy in the flute ended with my participation in high school band, it's made no difference to me whether Grandma has it or it sits in my closet.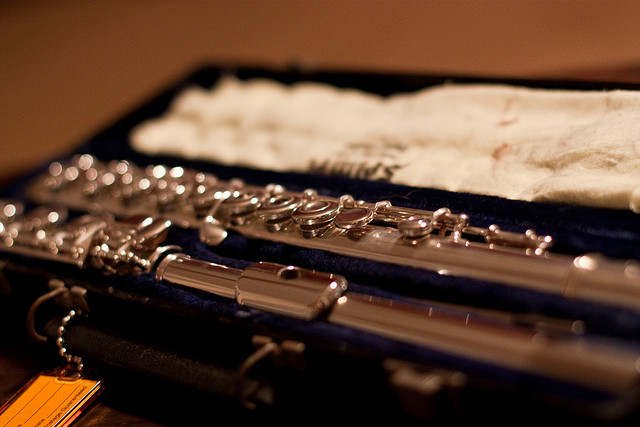 But Grandma said it's getting harder to play, and figures I could use it more than she. So I took it back. She even gave me a pile of her flute music. The covers are falling off and the edges are browned and soft. I stuck it on a shelf when I came home from visiting two weeks ago.
I often relax by watching TV or reading blog posts or talking to a friend. Tonight, however, I decided to do something different. I pulled out my flute and propped some of Grandma's old music up on my laptop (makes a great makeshift music stand), and tested out my wind pipes.
Playing the flute is a bit like riding a bike. Somehow, I remember the correct fingerings for the correct notes. My breath capacity is another matter and my lips are feeling a bit tingly. I made a lot of wrong notes and didn't quite stay in rhythm, but I played.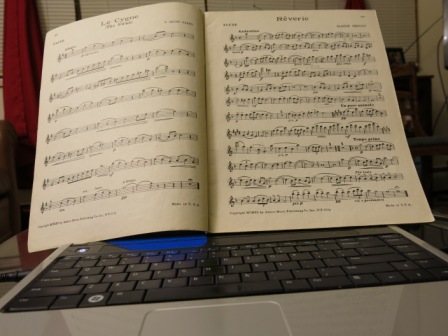 And you know what? I enjoyed myself. Played for about 30 minutes in the quiet of my apartment.
It made me realize that I have a say-so in how I spend my time. My creative outlets do exist, even if the window of opportunity to explore them is narrow.
For me, music is a simple pleasure that connects me with the sacred, connects me to God. It connects me to my roots, and it connects me to my quiet spirit. There's a settling deep within me that occurs when I make music. Music is a chiropractor for the soul: the bones of my spirit are realigned and I feel free.