"Human trafficking is one of the fastest-growing illicit industries, with an estimated 27 million people enslaved worldwide. According to the U.S. State Department's Bureau of Public Affairs and the U.S. Department of Justice, modern-day slavery exists in several forms, including forced labor, involuntary domestic servitude, sex trafficking and child sex trafficking, among other types and is a 32 billion dollar world wide industry.  It affects adults and children, with 13 the average age for entry into commercial sexual exploitation, according to the National Center for Missing and Exploited Children." (Unbound's Oct. 1 press release.)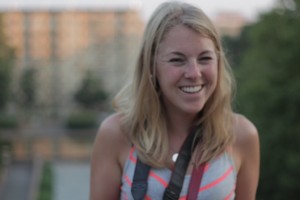 Meet Caitlin Ryan, a modern day abolitionist working to end human trafficking. Caitlin is a Minnesota native living in Washington D.C. where she works as a management consultant, helping federal government clients investigate incidents of sex trafficking in the United States. She also co-leads the UNBOUND team as Partner Initiatives Coordinator. 
1. What is UNBOUND? What is DC Stop Modern Slavery?
DC Stop Modern Slavery (DC SMS) is a diverse and growing community-based non-profit working to end modern slavery, beginning in the D.C. area. Through meetings, events, and communications DC SMS serves as a platform for people of all backgrounds to connect, learn, and take action. Significant achievements include helping to pass legislation addressing trafficking in the D.C. area and training hundreds of area residents to recognize and take steps to combat slavery.
Unbound, held annually on the National Mall*, brings together thousands from the community with dozens of local, national, and international nonprofits. In past years the Walk raised nearly $100,000 and recruited more than 2,000 participants and is now the largest walk event in the U.S. Today, we continue to grow and seek ways to contribute to a slavery-free future.

(*Note: If the government is still shutdown on Saturday, the event will need to relocate.)
2. Why are you participating in UNBOUND?
I'm a management consultant in DC and I first got involved with the anti-human trafficking movement through helping my federal government clients as they investigate incidents of sex trafficking here in the United States. While I was first introduced to the issue of human trafficking through my client work, as I learned more, I wanted to find other ways to make an impact. Commonly referred to as modern-day slavery, human trafficking is essentially the exploitation of another individual's labor or body for financial gain. As a global firm, my company has the opportunity to be part of the solution to fight this horrendous crime.
3. Why is ending human trafficking important to you? 
Human trafficking is a violation of the most basic human rights to freedom and choice. To me, all other pursuits are secondary to securing a person's most basic freedoms and human dignity.
4. You call yourself an abolitionist. What does this mean to you?
Abolitionists have fought to end slavery throughout history. I see today's anti-human trafficking movement as the great human and civil rights movement of our time.
5. How can other people join the movement to end human trafficking?
Concerned citizens can do so many things! Here's a great list provided by the State Department. And in line with #9, you can donate to UNBOUND! Here's my page, but you can obviously also donate to the more general fund.
Donated funds will go to helping 10 non-profits to:
Rescue victims of slavery
Shelter, rehabilitate, and educate survivors of slavery
Create, strengthen, and implement anti-trafficking laws
Train law enforcement officers, attorneys, and judges to identify victims
Operate the National Human Trafficking Hotline
Provide human trafficking awareness and prevention training in schools, private industry, the military, and all levels of government
6. Is there anything else we should know?
There are many misconceptions about human trafficking, mostly due to popular media and movies like "Taken." Find a fantastic list of myths dispelled, provided by the Polaris Project here.
Finally, the crime is not something that happens "over there." Human trafficking occurs in our own backyard. Here are some recent stories out of Minnesota that indicate trafficking happens far too close to home:
Native sex trade crossing international borders through Lake Superior (Daily Circuit, MPR)
Ramsey Co. judge sentences sex traffickers to 21 years (MPR News)
Montia Parker Update: Former Minn. high school cheerleader pleads guilty to prostitution charges (CBS News)
Connect with DC Stop Modern Slavery:
Twitter: @DCSMS
Facebook
Thanks so much Caitlin! Have any questions about human trafficking or sexual exploitation? Leave a comment and I'll help find you an answer.
BONUS: Here's an excellent video from the 2012 Unbound rally with speeches from activists and modern slavery survivors. This is powerful.
Read my earlier post about the modern day abolition movement here.