Sharing Books in a Little Free Library (Article)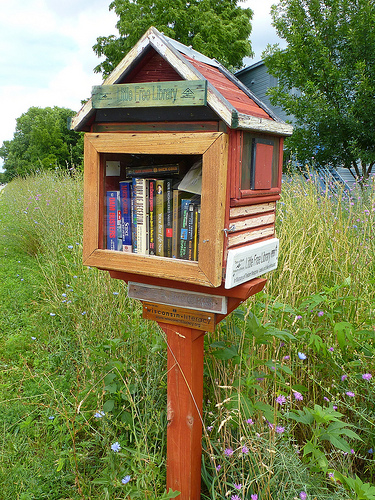 My latest article for Books Make A Difference magazine was released with the September issue this weekend. It's about Little Free Libraries and how they are making a difference for people all over the world.
This was a really fun article to write. When I have my own house, you can bet I'll be putting up one of these cute little libraries in my front yard! There are so many interesting designs, too. Search "Little Free Library" on Flikr to see pictures.
Many look like these little cabins (at left) but I've also seen them shaped as school buses, a TARDIS (from Doctor Who), and Victorian mansions.
Little Free Libraries can be ordered from the website or you can build your own.
Here's a sneak peek of my article, Sharing Books in a Little Free Library:
Walk along the urban streets of Minneapolis or Manhattan, the rural roads of Nebraska or Wyoming, or inside coffee shops and businesses, and you just might come across a handcrafted box on a post that looks like a little house. Peek inside and explore the literary landscape of books to borrow. Take one if you'd like—and bring back another next time you're in the neighborhood.

"There is profound value in sharing a book that changed your life," says Rick Brooks, cofounder of Little Free Library and the outreach program manager at the University of Wisconsin–Madison. Read More…
Do you have a Little Free Library? Have you used one before? What draws you to them? Why do you think they matter? 
Other articles I've written for Books Make A Difference:
Open Book: Creating a Literary Arts Community
YALSA: Connecting Libraries and Teens