Three years ago yesterday my husband popped the question.
He took me to a secluded clearing in the woods near a lake, by railroad tracks that (eventually) ran past our Alma Mater. We'd brought a picnic in wicker baskets with all my favorite lunch foods (sandwiches, pickles, chips and salsa) and laid it out on a blanket.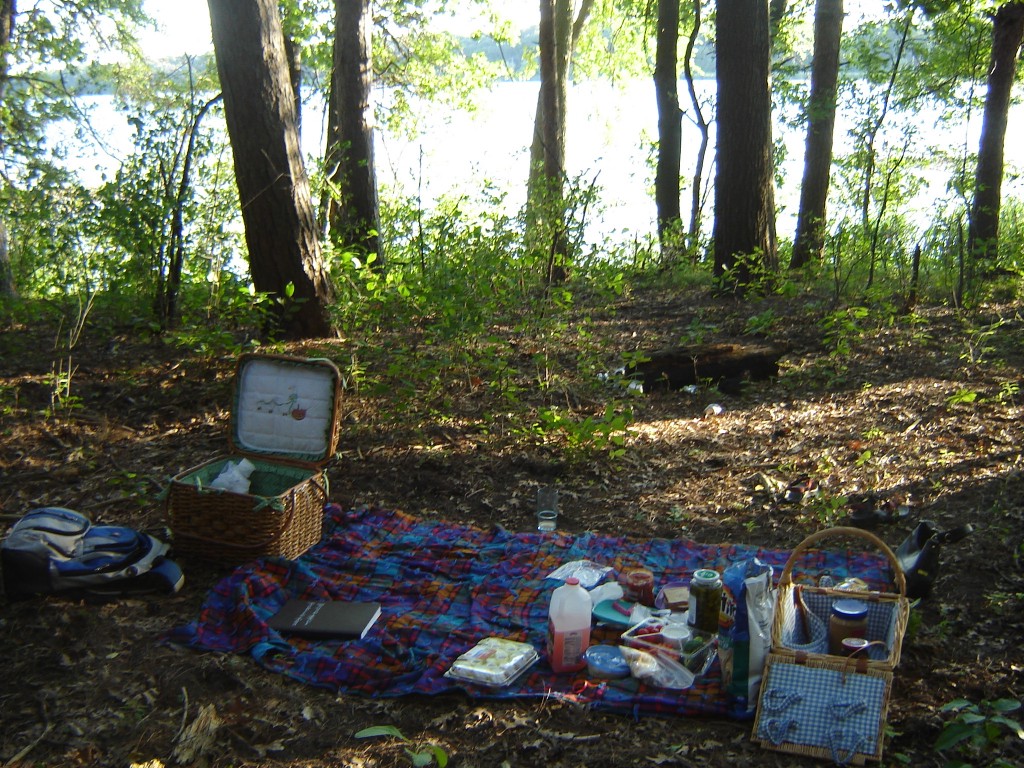 I wasn't really surprised. Tim doesn't normally plan special dates (we tend to plan them together) and we had decided earlier that summer that we wanted to commit our lives to each other. I just didn't know when–or how–he planned to propose.
We picked out rings together at Jared a month or so prior to the proposal. We were completely overwhelmed by all the choices. I wasn't the type to have designed and dreamed of my engagement ring my whole life. I had no idea what I wanted. And neither of us were prepared for all the options–the band, the setting, the cut, the carat/karat, the clarity, and on and on and on.
So we did some research online before we went. I liked the idea of doing something unconventional, but I also wanted something that would last forever. I knew that diamonds were at the heart of conflict and slave labor. I didn't want to purchase a diamond that was traded illegally to fund a war.
The United Nations (UN) defines conflict diamonds as "…diamonds that originate from areas controlled by forces or factions opposed to legitimate and internationally recognized governments, and are used to fund military action in opposition to those governments, or in contravention of the decisions of the Security Council."
TJ, the sales rep at Jared, assured me that their diamonds were conflict-free. But I knew there was more to diamond ethics than whether the diamonds had helped fund a war.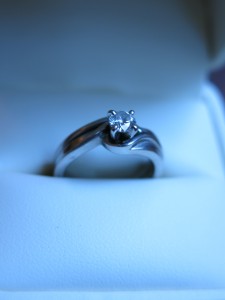 Were the diamond miners ethically compensated? Was the diamond mined in a way that took environmental conservation into consideration? Were the diamonds mined by child slaves?
An ethical jewelry company called Brilliant Earth says this about diamond mining ethics:
Many of the world's diamonds are mined using practices that exploit workers, children, and communities. A million diamond diggers in Africa earn less than a dollar a day. Miners are dying in accidents, child labor is widespread, and corrupt leaders are depriving diamond mining communities of funds badly needed for economic development.
Other gem stones were beautiful, but they made me think of anniversary rings rather than wedding rings. And I knew very little about other gemstone ethics.
We asked our friend TJ at Jared about it and he recommended a Canadian diamond. Diamonds mined in Canada follow strict regulations.
According to Brilliant Earth, "Canadian diamonds are mined according to Canada's strict environmental laws – which are among the most rigorous in the world. These high standards protect caribou and other wildlife, water, and fish habitats."
TJ said all diamonds mined in Canada come with a microscopic maple leaf engraved on the diamond. He sifted through their diamonds and found one for us with the maple leaf. We looked through the microscope and sure enough… there it was!
(Learn more about Maple Leaf Diamonds.)
I can't remember if a maple leaf diamond was more expensive than non-Canadian diamonds, but I do remember feeling confident about our decision to purchase it.
We went with a white gold band and to be perfectly honest, didn't really look into the ethics of gold mining. I'm sure that's not a pretty industry either. If I could go back, I'd do more research about that, too.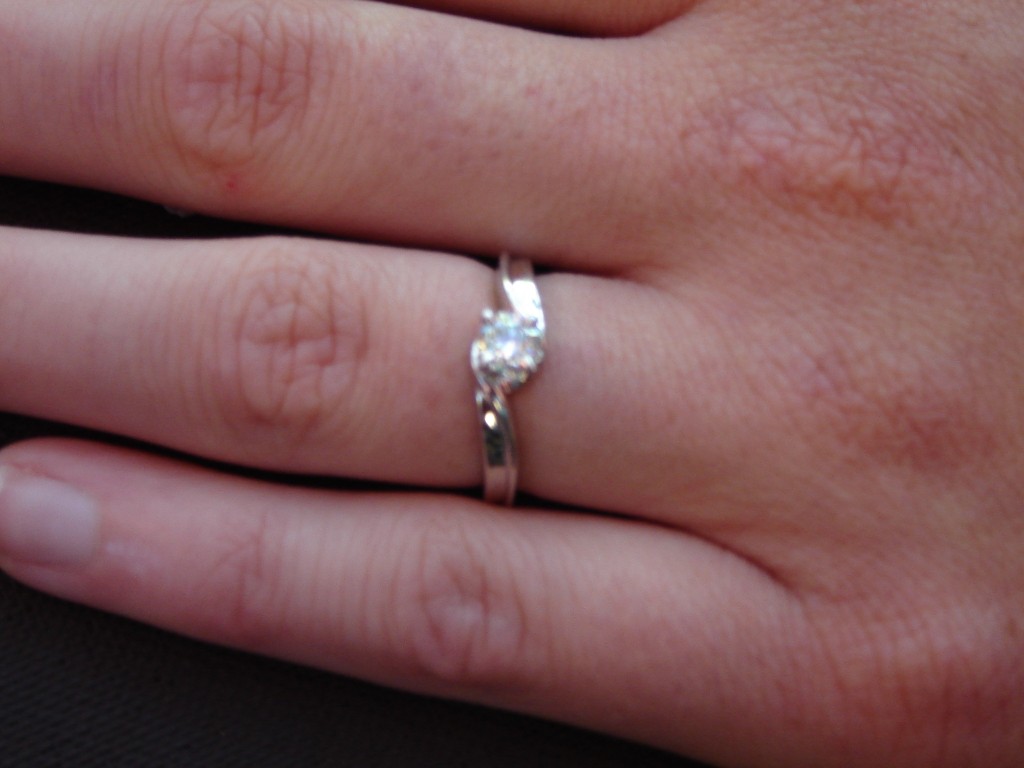 I didn't want a wooden ring. At first I thought I might. They are a beautiful and ethical choice. But it wasn't a forever material and I wanted something that would last. If I was buying a wedding band today, I'd order something from Brilliant Earth. Their fair trade gold is from Oro Verde from the Chocó region of Colombia, South America. Their website describes it like this:
Workers of Oro Verde are paid fair wages, boosting the economy and overall well-being of the impoverished region. The responsibly harvested gold is carefully mined on a small scale in order to protect the ecology, land, and people of this bio-diverse region.
I usually hesitate to talk about wedding ring ethics because wedding rings are symbols of a holy covenant. They are carefully chosen by the couple and worn with pride and joy. I'd hate for someone to feel ashamed of the ring they chose.
But I do want people who haven't purchased diamond or gold jewelry yet to know that they do have options. You don't need to be a part of an industry that dehumanizes people and destroys the environment. Your symbol of love and forever-commitment can be an ethical, compassionate decision, too.