The harvest has begun. My little, shared garden plot is bursting with life. The green bean bushes are falling over with the weight of ready-to-eat legumes and the tomato plants are swelling, bursting beyond their cages. Our cilantro plants grew so tall they flowered and started producing coriander seeds, bending low over our stunted peppers. So we're starting over with some fresh plantings.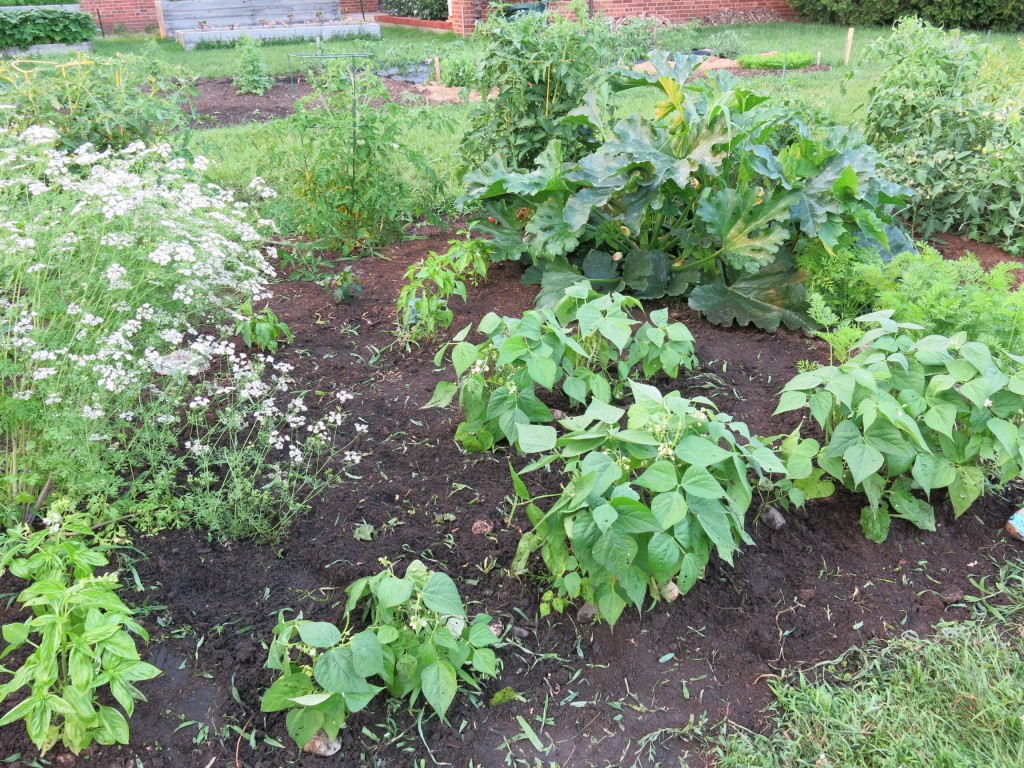 It's my first time gardening. I'm sharing a plot with a friend in a community garden at a church down the road. It's not as convenient as a backyard garden, but there's nothing quite like eating vegetables you grew yourself. My husband and I have already been enjoying the beans and zucchini.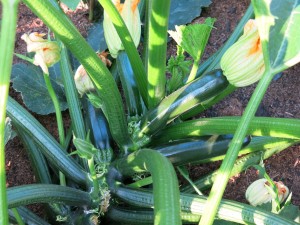 Did I forget to mention the zucchini?! Last week I picked a zucchini the size of a baby. And I shredded that baby up and baked it into bread. Mmmm, yummy. The smaller zucchinis have made their way into stir-fries and I'm planning to make stuffed zucchini boats one of these days, too.
I went to the farmer's market today in downtown Minneapolis and bought some locally grown lettuce and sweet corn. First corn-on-the-cob of the year. My mouth is already watering.
Gardening is a marvelous way to connect with the origin of food. All food starts here, in the dirt, as a seed, brimming with promise and hope. We humans have found many ways to alter natural food (high fructose corn syrup, anyone?), and yet no genetically modified tomato will ever beat a fresh one from the garden. How can it? You planted that tomato. Watched its leaves rise up to the sun, smiled with wonder as its blossoms turned into fruit, and waited patiently for the luscious red to announce its ripeness.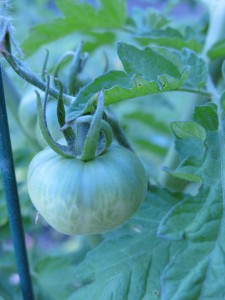 My friend's five-year-old son asks her every time they visit the garden if the tomatoes are ready to be picked yet. He's so excited. Would he be as eager to pull a tomato from the store shelf? Not likely. I relate to his excitement. I want to go check every day to see if I can bring a tomato home for supper, too.
I'm not a fancy gardener. For the first month I had a terrible time knowing what was a weed and what was an on-purpose-plant. My friend and I take turns visiting the plot to water and weed—neither of us goes as often as we probably should. But it's amazing to me how very little work is actually required to grow food. It's so simple, really. The majority of the work is taken care of by the sun and the rain.
It's important to connect with the origins of food. I'm not a canner–yet–but I imagine that practice also gives perspective to the value of food. Another friend of mine once told me their family treasures their homemade spaghetti sauce, because they experienced the process of growing and preparing the tomatoes.
When we grow our own food we give it greater value. Not just for its innate goodness, but because we watched it grow.
How do you connect with the origins of food? What is it about gardening that makes a difference for you?