White Girl in South Africa
As reports swirl about Nelson Mandela's deteriorating health and I read reports of people mourning and praying and hoping, I am brought back to when I first encountered Nelson Mandela's South Africa (and the legacy of apartheid) and how that experience in 2009 forever changed the way I view my place in this world.
I was only in South Africa for 1 month, but the experience has imprinted on my being.  In many ways, I am still processing what I learned and how it made me feel.
For two weeks I lived in a South African home with a family of Indian descent and learned, with another student from my university, about a variety of community development organizations in Johannesburg.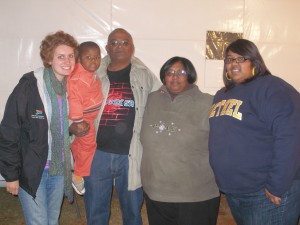 I was the only white person I ever met. My classmate from home was Guatemalan, so even she fit in better than I did with her golden brown skin and jet black hair. My pasty white Scandinavian skin and red, short cropped hair made me stick out as the obvious foreigner in this part of Joburg. I felt self-conscious and wanted to prove somehow that I wasn't like other white people. That I was somehow more enlightened, more compassionate, more… well, less "white."
I'm sure I only succeeded in being more awkward.
Then I joined a multi-racial delegation from my university: students, staff, faculty and even some members of a local, multi-cultural church. I was still one of only a handful of white people.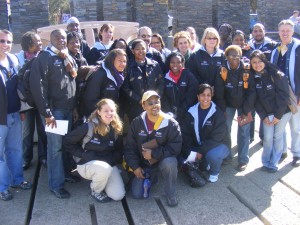 For the first time in my life, I was viscerally aware of my whiteness.
Our group visited historic sites and museums, such as the Apartheid Museum in Johannesburg and the Slavery Museum in Cape Town, children's homes, AIDS hospices, and universities.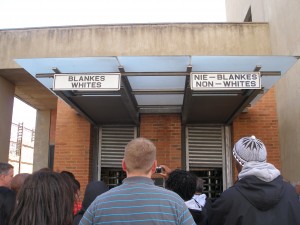 I read Mandela's Long Walk to Freedom and Steve Biko's I Write What I Like. Our group met with Professor Russel Botman, rector and vice chancellor of Stellenbosch University; Dr. Gerrie Lubbe, chairperson of the Desmond Tutu Diversity Trust; and Ismail Vadi, a parliamentary dignitary of the African National Congress, as well as with other prominent and unsung South African leaders in the reconciliation movement.
We visited Robben Island where Nelson Mandela spent most of his 27 years of imprisonment for his involvement in the anti-apartheid movement.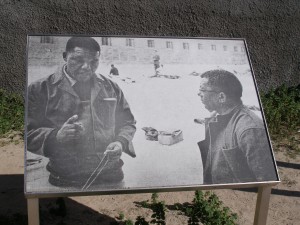 We met with many grassroots organizers, NGOs, educators, police people, etc. who are NOT prominent, too. It wasn't just about the heroes everybody knows.
At one point on our big bus, one of our leaders from my university–a South African and former anti-apartheid activist--asked me what I was experiencing as a white person on this trip. This is how I described my answer in my journal that day:
I told him I felt detached in some ways. I'm not sure how I fit, to be honest. I don't know how I feel. Do I feel guilty? No. Do I feel sad? Yes. Sad, perplexed, overwhelmed, curious. And hopeful.
Then a few days later, I wrote this:
You know, I think what I feel is shame. I couldn't pinpoint it before, but now I can. I am ashamed of the white people of the world for their oppression, murder, and dehumanization of other human beings. If I were black, I could feel pride in the resiliency of my people. I could be proud of their courage and strength. If I were black I could look back at the past which made me and be proud to have made it out alive.
But I'm not proud of white people.
White people are the oppressors. White people are not known for their courage or strength of character. White people have grabbed the social and economic power and passed down the power and privilege to their unknowing descendants. I too am a product of history. But my ancestors  collectively speaking for white people in general, were the ones who took credit for the labor of slaves. White people cocooned themselves in separate communities. It worked so well their descendants don't believe racism exists.
I have inherited a legacy of oppressors and shameful dehumanizers. I am the beneficiary of this oppression. I am the product of oppressors. 
I don't know what to do with my reality. How do I redeem this legacy of shame? How do I make reparations for oppression with my life? How do I break the cycle of benefiting from opression, the cycle of ignorance, the cycle of perpetuation of a crime long since condemned. How do I take responsibility for the human family and actually make "Never Again" a reality? What must I do?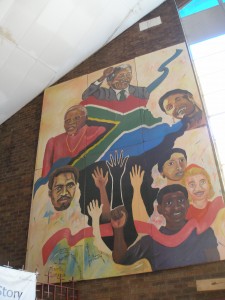 It's been 4 years (wait, what?!) since I traveled to South Africa. And if I am truly honest with myself, I haven't yet answered any of the questions I silently journaled on that bus in Cape Town. I am not much closer to living a reconciliation lifestyle. I'm still not sure what to do about this awareness of my whiteness and all the baggage that comes with it.
And I'm slowly owning up to the fact that I not only inherited from oppressors, but I am an oppressor myself.
When did you first realize what racial group you've been born into? How does your race affect how you see the world? If you're part of an oppressive group, how do you interact with that reality?